Name

▲

Last modified
Size
Parent directory
BackToColor.gbc
9-Jul-2014 17:54
128.0 KiB
readme.txt
7-Jun-2019 10:03
1.4 KiB
Information
You're browsing the directory /gbdev2014/Back_to_color/ of the Gameboy development file hub, maintained by nitro2k01. This is a place dedicated to providing old and new documents, freeware utilities and ROMs, related to the topics of Gameboy development and Gameboy music making. We also aim to provide mirrors of old and abandoned sites, even those that have vanished from the face of the Web, if copies are availble. Feel free to browse around.
If a folder has a "readme" file, it is displayed below.
Navigation: Go back to the file hub root directory - Gameboy development blog - Gameboy development wiki - Gameboy development forum - chipmusic.org community
If you wish to link to something in the archive, please link to the directory rather than directly to the file. Hotlinking is blocked. If you want to add a file to the archive, or just say something about the project, feel free to leave a comment here.
Ads
Screen shot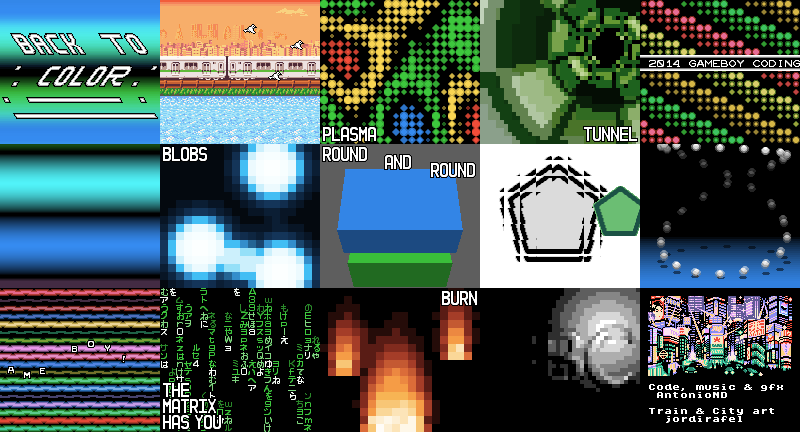 readme.txt
-Name: Back to Color -Author: AntonioND -Forum user: AntonioND (who'd have said it...)
http://gbdev.gg8.se/forums/profile.php?id=477
-Description: Here it is my first GBC demo. I started it like four years ago, but stopped after doing 3 scenes (not great, that's why I stopped). I've coded the rest in just a few weeks, in fact I started doing new effects a few days before the GBDev compo announcement. So... that's it! I hope you like it! I've coded it, and made the music, the only thing I haven't done is the train screen graphics and the credits graphics. Oh, and it shows a little credits screen in non-color gameboys! If you want to skip some parts, hold up/right/down/left when the demo is loading if you want to skip 1/2/3/4 songs. I've attached the binary and some screenshots. It works on most emulators (the pentagon thing has a problem with priorities in old versions of VBA, but BGB, Gambatte and VBA-M emulate it correctly) and, of course, real hardware. And here's a little video for the lazy ones smile
https://www.youtube.com/watch?v=MzfG4sGib_0
=== Source code on GitHub and other things:
https://github.com/AntonioND/back-to-color
https://web.archive.org/web/20161023163601/http://antoniond_blog.drunkencoders.com/?p=314
https://www.youtube.com/watch?v=eSEsd1OGA74
Download is in the blog, or here:
https://github.com/AntonioND/back-to-color/releases/tag/v1.0
The demo binary should be the same as here.
The server sez
This page was generated in a mere 1.035 milliseconds.