Name
Last modified

▲

Size
Parent directory
slider.gb
9-Jul-2014 18:06
32.0 KiB
readme.txt
7-Jun-2019 10:05
721 B
Information
You're browsing the directory /gbdev2014/slider/ of the Gameboy development file hub, maintained by nitro2k01. This is a place dedicated to providing old and new documents, freeware utilities and ROMs, related to the topics of Gameboy development and Gameboy music making. We also aim to provide mirrors of old and abandoned sites, even those that have vanished from the face of the Web, if copies are availble. Feel free to browse around.
If a folder has a "readme" file, it is displayed below.
Navigation: Go back to the file hub root directory - Gameboy development blog - Gameboy development wiki - Gameboy development forum - chipmusic.org community
If you wish to link to something in the archive, please link to the directory rather than directly to the file. Hotlinking is blocked. If you want to add a file to the archive, or just say something about the project, feel free to leave a comment here.
Ads
Screen shots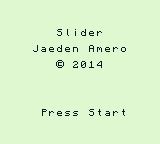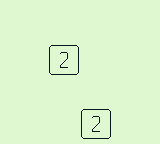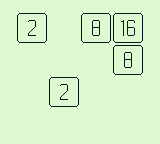 readme.txt
Name of Developer: Jaeden Amero Forum Name: Patater Developer's Website:
https://www.patater.com/
Project Name: Slider Description: Turn it up to eleven, two to the power of eleven that is, with Slider. Slider is the latest 2048 clone, and this time it's more portable than ever. Sailing around Thailand's beautiful sunny beaches? No problem! Slider features very high contrast graphics and looks great on the Game Boy screen, even in direct sunlight. Low on batteries hiking around the subarctic Alaskan wilderness? Slider sips juice from the bounteous bosom of Game Boy; not even your cell phone can play this game for as long as your Game Boy! Take Slider with you anywhere, anytime. It's quite a slide.
The server sez
This page was generated in a mere 0.546 milliseconds.