Name

▲

Last modified
Size
Parent directory
HeadacheBoy2016.gb
18-Oct-2016 15:19
32.0 KiB
readme.txt
18-Oct-2016 22:17
1.6 KiB
Information
You're browsing the directory /musictools/Headache Boy/ of the Gameboy development file hub, maintained by nitro2k01. This is a place dedicated to providing old and new documents, freeware utilities and ROMs, related to the topics of Gameboy development and Gameboy music making. We also aim to provide mirrors of old and abandoned sites, even those that have vanished from the face of the Web, if copies are availble. Feel free to browse around.
If a folder has a "readme" file, it is displayed below.
Navigation: Go back to the file hub root directory - Gameboy development blog - Gameboy development wiki - Gameboy development forum - chipmusic.org community
If you wish to link to something in the archive, please link to the directory rather than directly to the file. Hotlinking is blocked. If you want to add a file to the archive, or just say something about the project, feel free to leave a comment here.
Ads
Screen shot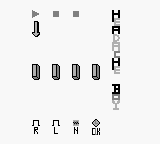 readme.txt
A small and sketchy random sound generator first posted here:
http://gbdev.gg8.se/forums/viewtopic.php?id=94
-Features Channel L Generates Random tones Channel R ascending tone Channel N random noise Compiled with gbdk and tested with Visual Boy Advance. Controls A: Play Channel R B: Play Channel N Up: Play Channel L Left: Speed down Right: Speed up ______________________________________________________________________________ Unfortunately the version of 2011 version of Headacheboy that I posted doesn't exist anymore. Its not a big loss because it didn't even worked on a real gameboy but you can listen to how it sounded here (only the first track)
https://mespunt.bandcamp.com/album/1096-minutes-of-headache
Its pretty funny sounding because it was recorded plugging my laptop's headphone output into its minijack mic input so there's some distortion added to the one VisualboyAdvance's overclocking gives. Fortunately HB went through some 30 minutes updates (maybe 3 or 4) during the years , and now it's got a 'GUI' and works on real gameboys. Instructions: Left/Right buttons move the arrow left and right through the channels. Up/Down buttons move the fader of the channel up and down. 'A' button plays/stops the channel the arrow's on. The 4th channel (CLK) is the program's clock. If you move it things are gonna get faster (or slower) A button doesn't do anything here. You'll quickly realize that headache boy its not very interesting. I hope it doesn't disappoint you! Cheers from Catalonia! [+.] Mespunt
The server sez
This page was generated in a mere 0.5701 milliseconds.