Name

▲

Last modified
Size
Parent directory
gbsound.gb
12-Sep-2010 04:40
32.0 KiB
readme.txt
7-Jun-2019 11:03
902 B
Information
You're browsing the directory /musictools/Unknown-Other/GBSound/ of the Gameboy development file hub, maintained by nitro2k01. This is a place dedicated to providing old and new documents, freeware utilities and ROMs, related to the topics of Gameboy development and Gameboy music making. We also aim to provide mirrors of old and abandoned sites, even those that have vanished from the face of the Web, if copies are availble. Feel free to browse around.
If a folder has a "readme" file, it is displayed below.
Navigation: Go back to the file hub root directory - Gameboy development blog - Gameboy development wiki - Gameboy development forum - chipmusic.org community
If you wish to link to something in the archive, please link to the directory rather than directly to the file. Hotlinking is blocked. If you want to add a file to the archive, or just say something about the project, feel free to leave a comment here.
Ads
Screen shots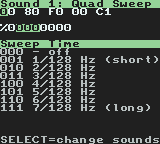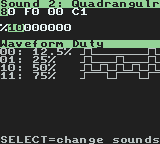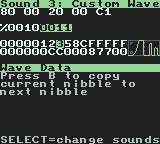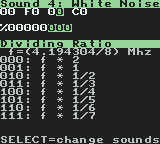 readme.txt
https://web.archive.org/web/20110605150631/http://www.plasmaworks.com/gbsound
About The Game Boy Sound Manipulator is a Game Boy program that allows the user to easily experiment with the different sound settings for Game Boy's four types of sounds. This tool is targeted at Game Boy programmers, so you will have to know some about Game Boy registers and programming for this to be useful for you. Basically, however, once you've made a sound you like you simply copy the four or five bytes shown in the display to the appropriate registers during your Game Boy program. For example Sound 1 has to have its values loaded into ($ff10) – ($ff14) and then the sound will automatically play. Requirements The Game Boy Sound Manipulator is made for Game Boy Color. It works best if you can burn it on a cartridge and run it on the real thing. Accurate audio performance on emulators will vary.
The server sez
This page was generated in a mere 0.4718 milliseconds.