These are official Game Boy flash cartridge sold in Japan. You would go to a designated flashing station and have your cartridge flashed for a cheap price.
The cartridge is marked DMG-MMSA-JPN and the board is marked DMG-A20-01 (I'm not sure whether the character after the 2 is a zero or upper case o – I'm actually leaning towards the latter as it appears to be a little bit wider than the following 0)
The board contains three intergrated circuits.
29F008ATC-14 – 8 Mbits (1 Mbyte) flash ROM. I can't find a datasheet for it, so I'm guessing it's a custom or OEM chip. I've seen Mask ROMs/OTPROMs in game cartridges also marked MX, so Nintendo probably had a contract with them.
UT621024SC-70LL – 1Mbit (128 kBytes) of battery packed save RAM.
MX15002UCA – Custom logic chip marked G-MMC1. The apparent function of this chip is MBC like functionality. Maybe there's more to it too, like the ablity to offset the ROM and RAM addresses for multigames or flash memory protection? Details unknown. There's an unused place for a crystal.
Note the square boxes on the back side, of the PCB, on the opposite side of the connector that goes into the cartridge header. These were most likely used in the factory to program the cartridge initially. Notice how the "unimportant" system clock and external audio inputs are missing this box. Also note the nice rounded PCB traces. Not often you see these. Visually appealing, indeed.
And maybe it's a sign I'm getting too little sleep that I'm seeing a "face" in the image.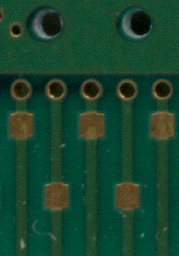 The scans are provided by Duo.
6 Comments to Official Nintendo Game Boy Flash Cartridge Board Scans
Hi, where I can find this cart model?

Thanks!

Drop 1410

drop 1410 on June 21st, 2009

Keep your tentacles out… This is a rare beast, it was even back in the days when it was sold commercially, so don't expect to find one easily. Get to know people in the scene. Check eBay everyday. Or go to Akihabara!
If you just want a flash cartridge for general use, buy a USB cartridge from this site instead. (Which you already know, as I can see from your blog.)

nitro2k01 on June 21st, 2009

Ja! GOT ONE…

Bye Bye!

Drop 1410 on June 23rd, 2009

I want also one………. and i have a brand new Classic GAMEBOY where can i find one or is it better to play the ROMS on the DSI

the_game_freak on November 11th, 2010

but the Classic GAMEBOY feels like real old memmories of the late 80,s
So i want one i pay 60 euro,s for it

the_game_freak on November 11th, 2010

[...] if you look inside the cartridge, you can see that the RAM chip, UT621024, is clearly a 128 kiB chip, but apparently [...]

Gameboy Genius » Blog Archive » Gameboy project week 8: The white Nintendo Power official flash cartridge, a tale of reverse engineering, sweat and tears on February 24th, 2013
Leave a comment