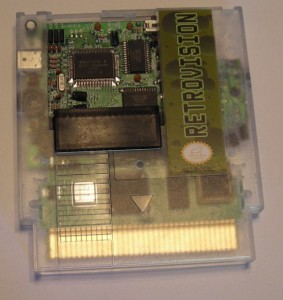 Finally a new post on this blog.


RetroVision by RetroUSB is half a Gameboy attached to a NES cartridge which converts the display data into something the NES display using magic programmable logic, much like Super Gameboy for SNES or or Nintendo's Demo Boy which was used in stores to showcase Gameboy games. The RetroVision does contain an authentic DMG motherboard; there are even holes in the cartridge for the link port and headphone output, although the sound is supposedly routed to the NES as well.
Here's my own criticism/nitpicking of the product:
It lacks screen stretching. While I of course understand that this would take some effort, especially with the 3/2 zoom ratio needed to fill the screen, I think it would've greatly increased the general appeal of this product.
Another thing that would increase the appeal of the product for musicians would be if you offered the so called ProSound mod, i.e. bypassing the onboard amplifier which gives a slightly better sound quality. Perhaps with RCA sound outputs.
You could probably simplify the manufacturing process a bit by using a ribbon cable instead of individual wires for the video signal.
Away with the DMG's power regulator board! There's absolutely no reason to keep it, but one good reason to throw it away, namely that it produces noise. The NES should supply a perfectly adequate 5V while the (nominal) -18V isn't needed since the LCD isn't there anymore.
The RetroVision will sell for $130, but so far only 4 units have been produced because of the intricate manual assembly process. BunnyBoy of RetroUSB doesn't expect this to a big seller, but more of a platform to build other future products on.
5 Comments to NES RetroVision – Gameboy on a NES cartridge
[...] Finally a new post on gbdev.gg8.se – go and read it. [...]

Gameboy Genius » Blog Archive » NES RetroVision – Gameboy on a NES cartridge on May 6th, 2010

[...] Also: Read this Review of pictures by Nitrok2k1 [...]

TRUE CHIP TILL DEATH • NES RetroVision Appeared on May 6th, 2010

nice write up nitro. i agree, this is a really cool idea that's not executed that well. i think this could have been a really cool kit from retrozone, that you provide the dmg for sacrifice. also, thanx for the prosound link ;D

xero / fontvir.us on May 6th, 2010

xero: After I wrote this post he actually got rid of the converter board and has bought some ribbon cable to play around with. I'm sure he'd make a ProSound too if you asked him.
Stretching the image is more difficult though. I discussed it with him and it's not something you can do trivially.

nitro2k01 on May 6th, 2010

i really love the idea to play gameboy games on a nes i wish they should,ve officialy dit this back in the 90s for the consummer,cuzz the supergameboy more feels like downgrading,ruining the snes.
this is 1000 times cooler then averagely the supergameboy.
but i wish they had tryed to put the gb cartride connector deeper bellow inside the nes cartride to avoid the need of removing the metal bar from the nes.
i also wish they tryed to closely emulate the gameboy sound on the nes chip using an convertor chip,or just streaming & mixing the gameboy sound trough the nes pcm channel trough an adc chip,just to avoid the need of doing the nes resistor mod.
ofcourse i got more wishes like colorizing sprites and backgrounds saperately and resizing the image but they are less inportant for me.
it,s great to know that they,ve managed to sqeeze the gameboy hardware inside a nes cartride,with all the options from the gameboy.
compared to that huge,rare & expansive wideboy it was only compatible with the famicom and has no link port and has it,s own saperate controller port.
this one is a must have!!!!

johnson on September 21st, 2011
Leave a comment